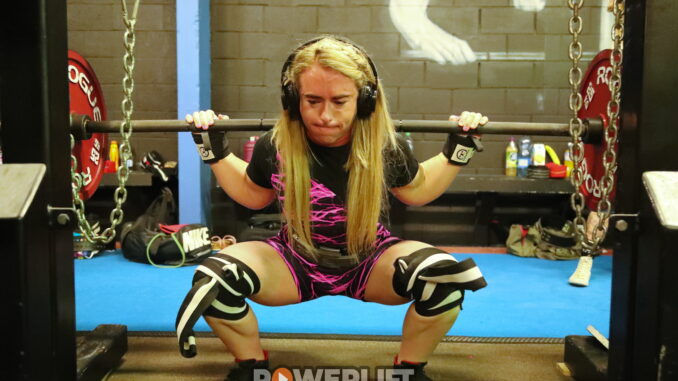 It's been a while since the competition but I have finally got around to spending some time writing about the fantastic experience at the Irish Pro Invitational competition in early September. I was there as a photographer having been asked by Naomi Sheppard to join her and her husband/coach Tom Sheppard for the competition. For me it would be a unique experience to see a pro powerlifting competition for the very first time and also to be asked to document the event for a high class lifter.
The run up to the Irish Pro had been hugely eventful. Tom and I plus the rest of the Phoenix Performance powerlifting team had been at the Euro Championships and unfortunately both Tom and I (both double jabbed) caught Covid. Some of the lifters on the team also contracted the virus. Fortunately, our symptoms were mild and we recovered very quickly. However, Naomi contracted the virus from Tom and although she recovered quickly she sustained back problems due to the virus and with only a week to go it was doubtful she would participate.
However, Naomi is one tough person and through a team of people to advise and rehabilitate her, she improved and the decision was made to go.
We flew over on the Thursday and once there, everything that could go wrong did go wrong, nothing was smooth. Making weight was tough and Naomi was not in a good zone on the Friday. She eventually made weight and then prepared ready for competition day. One highlight of Friday was meeting some of the other lifters in the competition. Aisling, Siobhan from the Ironworx Gym and their supporters made us feel very welcome.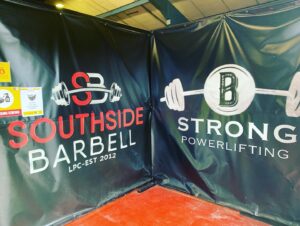 Saturday arrived, competition day! The Southside Barbell gym had been transformed into a superb area with atmospheric lights and sound system. The warm up area behind the platform was a hive of activity.
My focus was to document the competition for Naomi and it quickly became apparent that Denise Herber, a powerlifter from Germany was her biggest competition.
The two ladies were matching each other lift for lift and it was fantastic to see these two elite athletes giving it all in order to win.
It is safe to say that Naomi was feeling both the pain and pressure of the competition after all the sickness, injury and by her standards poor pre-comp prep. However, with Tom at her side, she dealt with all of this fantastically well and continued to lift within herself. Denise was also showing incredible power and skill and was taking the challenge to Naomi.
It was extremely close going into deadlift. The final lift was make or break for both Denise and Naomi. Naomi went first and nailed the lift. Denise also went way over her PB to get three white lights on her deadlift, truly a stunning performance. At this point I thought Denise had won and beaten Naomi to the title. As I sprinted to the warm up room I could hear the judges starting to discuss the final two lifts. I had literally said 'well done, you gave it your best shot but it wasn't to be' when Naomi said 'I've won!'. 2 seconds of stunned silence from Tom and I and then massive celebration. I have to say it was emotional. The winning margin was 0.2 points. Very tough on Denise who had exploded her PB's and given absolutely everything. Ever the true sportswoman she is, Denise was one of the first people to congratulate Naomi.
A fabulous days competition with some superb lifters and with all the setbacks, injury and sickness Naomi battled through it all to win. A truly epic performance and an experience that was both a privilege and pleasure to document through the lens of a camera.
I leave the last word to Naomi in her Instagram post from the competition.