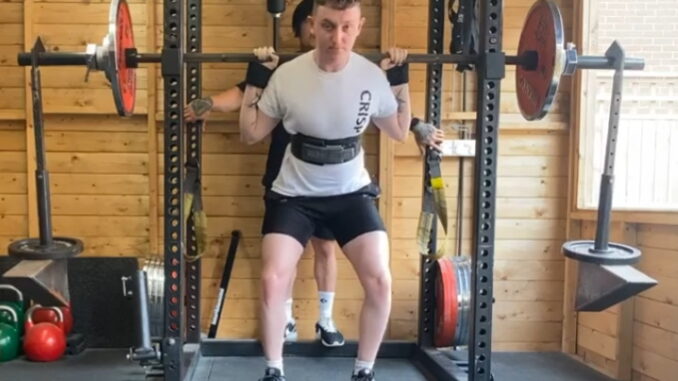 "To the wall"? Let me explain:
I never came from a sport background. I never really enjoyed PE at school, and I didn't follow any popular sports like football/rugby etc either so this is a big deal to me. So that phrase rolls round in my head quite a lot, especially now while I'm training for what feels like one of the biggest opportunities in my life so far: the WPC European powerlifting championships.
It means to take it there. Where? To the very end, the limit. Right to where I left off the previous day. To push myself further and harder than I ever have before, every single time.
I would be lying if I said this isn't terrifying. The chance I have every day to become just that little bit better than I was yesterday is only something I found through powerlifting; and something I have carried through on this journey so far.
There's a photo (the one used on the first post) of me celebrating. That was raw emotion, unable to be kept away any longer. The culmination of pain, sacrifice, and sweat that all lead up until that moment and I think it realty speaks to what that phrase means. Celebrating a 1st place finish with all 9 lifts after the recent world events was so sweet, I couldn't hold it in anymore. I had been to a place I hadn't ever been before, pushing harder and with more determination. But it was a humbling reminder of the work left to do, and straight back onto "the path" the following week.
This week we had the weight releasers on the bar for squats. Having used them in the past, they're a daunting experience. They "overload" a portion of the lift (allowing you to lift heavier than you have before), before completely releasing off the bar to leave you with the raw weight. The strength profile is huge, loading 137.5kg on the eccentric and 97.5kg on the raw weight once they're off. They always make me nervous, being a guy that usually walks round around 73kg it is daunting at first to hold something that heavy on my back. Undeterred, I gave everything and managed a set of 3×3 with them: setting an all time PB and the promise of a heavier weight next week. I'll attach the video, to serve not only as my own well of motivation if times get tough but also a place where anyone in my position can come to be inspired.
And what went through my head as a I got under the bar? To the wall.
Looking forward to the next session, making everything count now as I'm 3 weeks out from the European championships. How far can we take it?